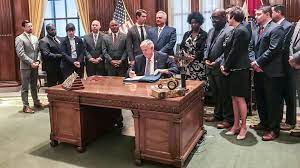 Thanks You Governor Mike Parson of Missouri. These bills has worked for the good of all. After more than three years since you signed these laws into law; HB 192 modifies provisions relating to the payment fines by offenders. The bill also modifies how commitment count minimum prison terms are calculated for specific nonviolent offenses, SB 1 removes certain offenses from the list of crimes where expungement is not currently available, including property damage in the first degree, stealing, possession of a forging instrumentality, and fraudulent use of a credit device or debit device.
Other bills signed include:
HB 243 - Release from Lease for Victims
Allows victims of certain crimes to be released from certain lease agreements if documentation is provided to the landlord.
SB 291 - Omnibus Public Safety (911)
Modifies provisions relating to emergency communication services.
HB 898 - "Back the Blue" License Plate
Establishes a special license plate supporting the Missouri Law Enforcement Memorial Foundation.
SB 306 - Dependents of Military Members
Modifies several provisions relating to education for members of military families.
SB 333 - Fire Protection Districts
Authorizes certain fire protection districts and municipalities to propose a sales tax for fire protection.
SB 12 - Service of Court Order Changes
Modifies provisions relating to charges for the service of court orders.
SB 83 - Omnibus Court Proceedings
Modifies provisions relating to the relocation of a child covered by a custody or visitation order.
That after the vote of the membership, its' chapters/chartes (of 82.9%). We do hereby issue our 2020 resolution. The National Board of Membership expresses its deepest appreciation for the outstanding contributions made by Former President Donald J Trump during his public service, in support of Ex-offenders, their families, and our communities of release. Law and order equal equality in justice for all. Thank you Mr. President. click Mr. Trump Photo for full resolution.